Patented Technology
The core of the SOWΛRLΛ SUN system is an innovative solar receiver, developed by the glass experts from Hirschmann Laborgeräte GmbH & Co. KG. The solar receiver acts as the reactor for the photocatalytic decomposition of water-polluting substances. Owing to its modular design the receiver can be perfectly adapted to the water volume and easily expanded as necessary.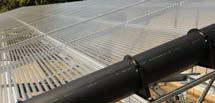 Figure: SOWΛRLΛ SUN-receiver Figure: special glass tubes
Patented solar collectors with tubes from sturdy and extra-translucent special glass ensure maximum exploitation of the solar radiation. While the contaminated water mixed with photocatalysts is flowing through the glass tubes of the receiver, which is exposed to sunlight, a sophisticated control system adapts the flow rate exactly to the actually irradiated solar power: high solar radiation allows a high flow rate, whereas the flow rate decreases with lower solar radiation levels. As soon as the water has reached the desired level of purity, the photocatalyst is separated and the clean water is discharged.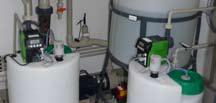 Figure: SOWΛRLΛ SUN-control
The full amount of energy required for operation and control can be supplied a photovoltaic plant. In this case, the pumps which move the water through the receiver are also powered by solar energy. In this way, the entire plant is independent of fossil fuels and thus, CO2-neutral. Rising energy prices will have no effect on the operating costs of the SOWΛRLΛ SUN system, which makes the combination of photocatalysis and photovoltaics an absolutely unbeatable team.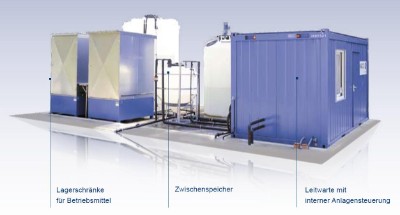 Figure: SOWΛRLΛ SUN-periphery with control room, tanks and stock