Demonstration plant
The SOWΛRLΛ SUN system is based on an innovative process, which has been designed within the scope of extensive scientific studies and tests. It comprises a patented solar receiver design, a sophisticated control system and an energy-efficient catalyst separation and recycle system. The system was successfully tested on the degradation of a variety of oxidizable compounds. As a first full-scale application, the elimination of hazardous compounds from a biologically untreatable cooling water was realized in a demonstration plant at the DLR location in Lampoldshausen. Originally, UV-lamp technology was used to purify the contaminated cooling water - a purification principle that caused high operation and maintenance costs. Today, the demonstration plant is run under continuous operating conditions and available to the expert community as a reference project.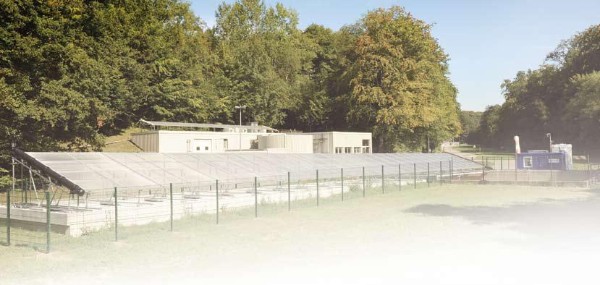 Figure: SOWΛRLΛ SUN demonstration plant at DLR site Lampoldshausen
The research project, which has been named SOWARLA, was supported by the German Federal Environmental Foundation (DBU) and initiated in cooperation with the Technology Transfer Center in Lampoldshausen (TTZ).


Profile:
Location
Lampoldshausen, Baden Württemberg, Germany
Year of commissioning
2009
Solar receiver area
240 m2
Total area required
350 m2
Daily volume of purified waste water
13,7 m3
Pollutants
Cyanide, nitrite, hydrazine derivates